One of our specialties at Midland Industrial Covers is manufacturing custom covers and curtains for personal and or business applications. Our Custom Covers and curtains are made specific to your application and requirements and are available in a variety of colors and materials. We specialize in patio curtains and mosquito mesh for decks, gazebos, pergolas and any outdoor space that you'd like to enclose and we also fabricate lots of other custom covers for a variety of personal and industrial applications. Everything is made in Canada by our experienced team of seamstresses and vinyl fabrication technicians.
Multiple Materials & Colours to Choose From
We manufacture custom covers and curtains using any combination of the following; (click on the links for more information about each material):
All Shapes and Sizes
Our team can custom manufacture any shape and size cover for you.
Depending on the size and use, we'll provide feedback on what weight and type of material we would recommend.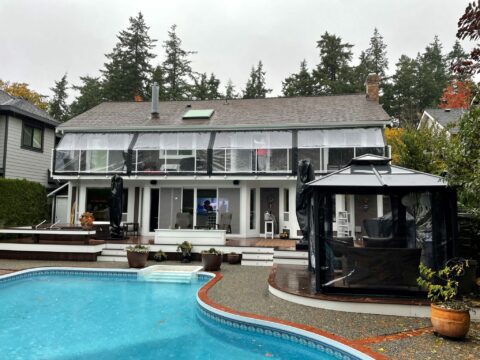 Webbing, Grommets, Velcro Chain Floor Sweeps, Twist Locks and Ground Anchors
All of our covers and curtains come with 2″ reinforced seatbelt webbing sewn around the perimeter with grommets installed.
Besides grommets, we can also add other fastening options to help secure your cover such as Velcro Chain Floor Sweeps, Twist Locks, Ground Anchors, Pipe pockets and Velcro.
Clear Vinyl Windows and Doors
If you're looking to enclose your outdoor space, or partition a section of your warehouse, we recommend our Clear Vinyl Curtains with Opaque borders.
This combination has become very popular for outdoor and indoor applications. The opaque vinyl border enhances the strength of the curtain, while the clear vinyl adds visibility and lets the light through. We also make Mesh Curtains for those looking for protection against bugs and mosquitos during the summer months.
Zippers can also be added for easy access. We can add a single zipper in the middle of your curtain or two zippers 36″ apart with pvc pipe and buckles for a rollup option.
Ships within 10-15 Business Days anywhere in Canada and the USA
Once we have confirmed the details of your order together, it'll take us approximately 10 business days to fabricate and another 5 business days to ship. This timeline is a good guide but would obviously be dependent on the size and quantity of your order and the time of year. (September to December is usually our busiest time).
How It Works
1. Send us information about your project by clicking on "Get a Free Estimate"
2. We'll respond to you within 24 hours – 48 hours requesting additional information
3. Once you provide the additional information, we will follow-up with a phone call to confirm the details of your project together
4. Order the custom cover

Once we have ironed out all the details of your order, we'll request a 50% deposit to get the project started, and invoice the remaining 50% when the product is shipped, at which point we will email you a copy of your invoice and receipt and the tracking information for your order.