At Midland we manufacture custom enclosures for patios of all types. Turn your patio into the perfect outdoor seating area, that can be used year round in all weather conditions. We use a variety of materials and offer a wide range of colors, so you can customize your enclosure to fit your style and needs.  All of our enclosures are manufactured in Canada by our expert team of seamstresses and vinyl fabrication technicians, using high quality, durable materials.
Watch our video to see our team install custom vinyl curtains for a deck.
Multiple Materials & Colours to Choose From
We manufacture custom patio enclosures using any combination of the following (click on the links for more information about each material):
Heavy Duty Vinyl – 18oz longest lasting & most popular manufactured tarp, available in 21 colors
Clear 20 gauge Vinyl – Provides UV protection and is waterproof, rot, mildew, oil grease, acid, scratch, tear and fire resistant, Available in reinforced clear also.
PVC Monster Mesh – high quality 13oz and available in multiple colors.
Create the Perfect Enclosure for Your Patio
We work with you to create the perfect enclosure that fits the specific dimensions of your patio space. We also offer a variety of materials and colours to ensure that the enclosure fits your desired style and intended application.
All of our covers and curtains come with 2″ reinforced seatbelt webbing sewn around the perimeter with grommets installed.
Besides grommets, we can also add other fastening options to help secure your cover such as Velcro Chain Floor Sweeps, Twist Locks, Ground Anchors, Pipe pockets and Velcro.
Ships within 10-15 Business Days anywhere in Canada
Once we have confirmed the details of your order together, it'll take us approximately 10 business days to fabricate and another 5 business days to ship. This timeline is a good guide but would obviously be dependent on the size and quantity of your order and the time of year. (September to December is usually our busiest time).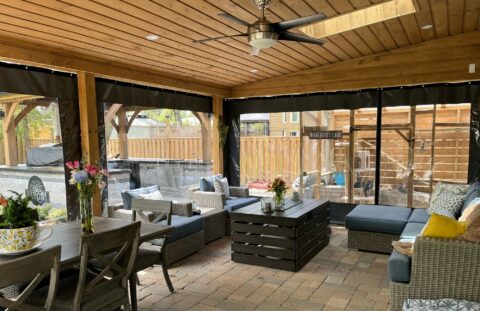 How It Works
1. Send us information about your project by clicking on "Get a Free Estimate"
2. We'll respond to you within 24 hours – 48 hours requesting additional information
3. Once you provide the additional information, we will follow-up with a phone call to confirm the details of your project together
4. Order the custom cover

Once we have ironed out all the details of your order, we'll request a 50% deposit to get the project started, and invoice the remaining 50% when the product is shipped, at which point we will email you a copy of your invoice and receipt and the tracking information for your order.